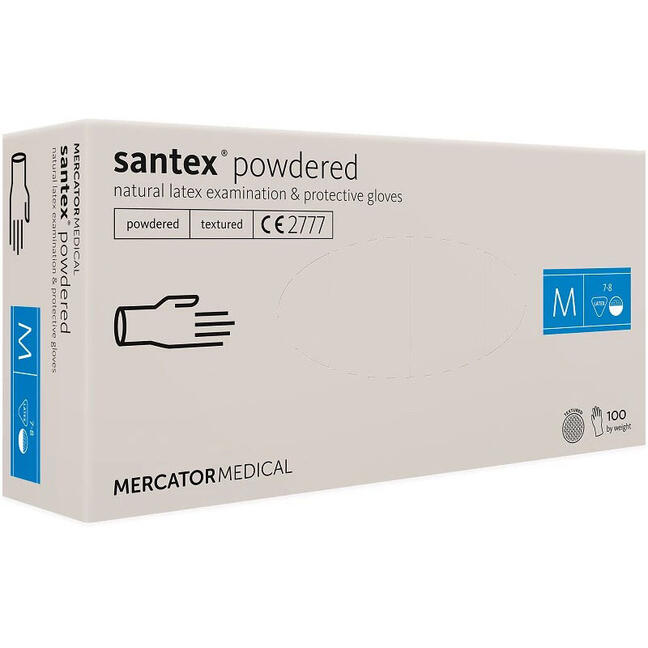 Description
Highly flexible disposable latex powdered medical gloves recommended especially for users struggling with the unpleasant problem of excessive sweating of the hands - top quality at the lowest price. They are intended not only for medical and treatment purposes, but also for contact with food. Unwanted self-rolling of the gloves is ensured by a regularly rolled edge (cuff).
Santex® powdered represent an economical choice when using powdered non-sterile latex gloves. Texturing on the outer surface of the gloves ensures a firm grip when performing any activities. Powdered santex® gloves minimize sweating mainly due to the powder component (corn starch) they contain. The gloves are in a natural cream color. They are bilateral (without distinguishing between right and left hands).
1 package contains 100 gloves.
Recommended use:
medical procedures
common household activities
Characteristics of LATEX material:
These latex gloves are made of natural rubber, are ecological and biodegradable. The proteins that latex contains can cause allergies in some people. Therefore, this material is not recommended for people prone to allergic reactions.
Advantages of latex gloves:
high flexibility and softness
100% natural material without any chemical composition
strength, puncture and tear resistance, comfortable use
great tactile sensitivity in the hands with a feeling of "second skin"
Reviews
0 z 5
This product has no ratings.
Be the first to rate it!