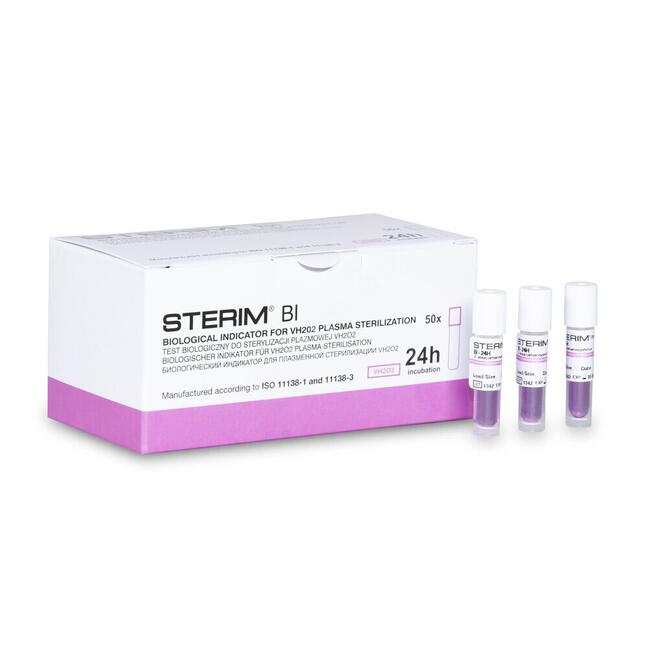 Biological test STERIM® Ampoule for 24-hour control of plasma sterilization
Estimated delivery time:
Friday, February 17
Description
Biological indicators make it possible to clearly confirm the effectiveness of the sterilization process. Ampoule 24-hour plasma VH2O2 tests work on the same principle as other biological indicators. Specially prepared spore forms of Geobacillus stearothermophilus bacteria are sterilized together with the medical material and then a test is carried out to multiply the microorganisms administered with the medium at an elevated temperature. An increase in the number of bacteria means that the sterilization process has failed.
Sterim's 24-hour bioassays in plasma vials require a short incubation time. The reading of the test result, ie confirmation of the effectiveness of sterilization, is possible after 24 hours.
An important advantage is also the placement of the finished medium in the ampoule inside the test tube. Thanks to this, it is not necessary to prepare the medium after the sterilization process - just crush the ampoule with the medium.
Advantages of Sporal strip biological tests:
- a complete test set ready for use and made by yourself,
- only 24-hour incubation of biological material,
- compatibility with incubators of different brands.
Technical specifications:
- compliance with standards: ISO 11138-1, EN 867-3, ANSI/AMII ST46: 2002
- verifiable method of sterilization: plasma,
- bacterial spores: Geobacillus Stearothermophilus,
- quantity per package: 50 pcs.
- storage: ≤ 30 degrees C.
Reviews
0 z 5
This product has no ratings.
Be the first to rate it!