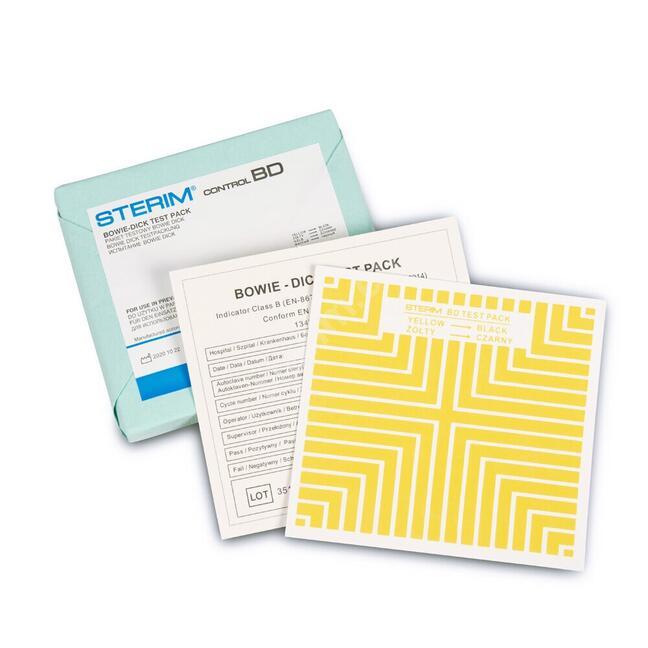 Bowie & Dick test pack for checking STERIM® steam sterilization
Estimated delivery time:
Friday, February 17
Description
The Bowie Dick test is a card with the tested substance inserted between sheets of special paper, laminate and foam. This design of the package reflects the critical conditions and allows you to check whether the generated steam reaches every nook and cranny of the sterilized package.
The daily performance check consists of placing the test pack in the heated empty chamber of the sterilizer and running the Bowie-Dick program. After sterilization is complete, remove the package, wait for it to cool, and then open it and read the test result. Confirmation of the effectiveness of the control is a change in the color of the test sheet (and also the indicator on the outer label) - from yellow to black.
Benefits of STERIM® Bowie&Dick Sterilizer Performance Check Packages:
- ease of use and reading of the test result,
- compatibility with the common Bowie&Dick standard.
Technical specifications:
- sterilization method: steam,
- compliance with standards: ISO 11140-1 (type 2), EN 867-1, EN-867-4, AAMI ST 60 (type 2),
- verified process parameters: effectiveness of vacuum forming, tightness, steam penetration ability,
- each test is individually wrapped in foil.
Reviews
0 z 5
This product has no ratings.
Be the first to rate it!