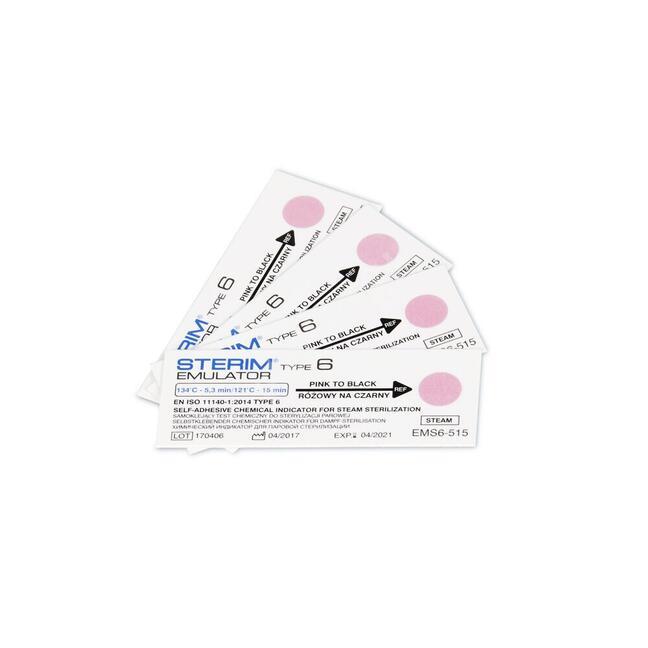 Emulator 6 Chemical tests for checking steam sterilization Type 6 EMS6-515 STERIM®
Estimated delivery time:
Friday, February 17
Description
Type 6 tests verify that the correct critical conditions have occurred during the sterilization process. STERIM® Emulator 6 EMS6-515 indicators can be used in steam sterilizers of all manufacturers with any chamber size. They are also compatible with the PCD Control device.
The test strip should be placed in the package to be sterilized (or in the validation package or PCD Control device). At the end of the process, the color of the test substance placed on the circular field should be checked. Confirmation of the required sterilization parameters is a change in color from pink to black. The strip has an adhesive layer for easy insertion into the stored documentation.
Advantages of chemical tests STERIM® Emulator 6:
- the reliability of the evaluation of the key parameters of the sterilization process,
- ease of use and reading of the test result,
- convenient archiving of test results - thanks to the possibility to insert the strip into the documentation.
Technical specifications:
- sterilization method: steam,
- compliance with the standard: ISO 11140-1:2014 type 6,
- verified process parameters: presence of steam, temperature, time,
- size of the test strip: 19 x 100 mm,
- quantity per package: 250 pieces.
Reviews
0 z 5
This product has no ratings.
Be the first to rate it!