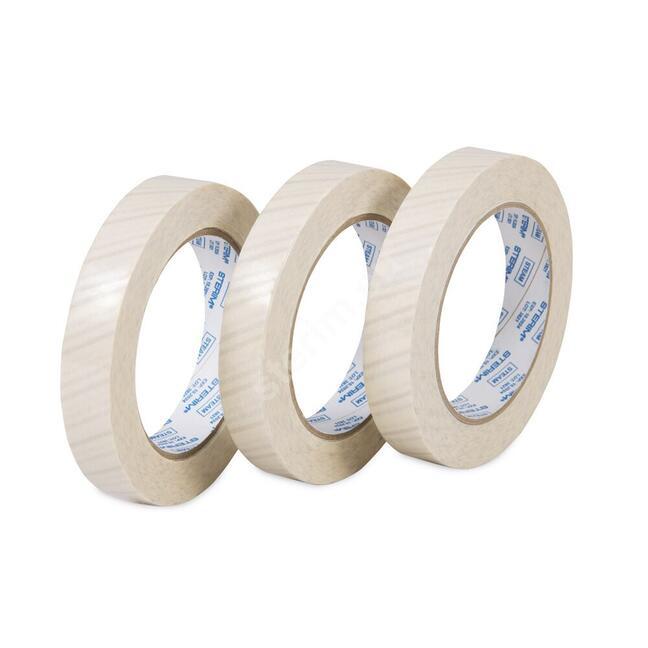 Self-adhesive tape with steam sterilization indicator
Estimated delivery time:
Friday, February 17
Description
The tape is made of crepe paper coated with a strong adhesive and is characterized by very high adhesion to cellulose fibers, non-woven fabrics and sms packaging. It is resistant to heat and humidity, it maintains its structure and high tensile strength during the sterilization process.
The Type I Sterilization Control Indicator confirms that the tape-marked package has undergone the steam sterilization process. It fully meets the requirements of the PN EN ISO 11140-1 standard. It changes color under the influence of steam at a temperature from 121 to 134 °C.
Sterim steam sterilization tape can be used to seal and label all types of sterilization packaging, especially those made of crepe paper and sms fabric.
To increase user comfort and speed up the process of preparing packages for sterilization, it is recommended to use a tape dispenser to facilitate cutting.

Advantages of Sterim tape for steam sterilization:
- combination of functions: sealing tape + indicator,
- very good adhesion to typical packaging materials,
- high mechanical strength
- resistance to high temperatures and humidity.

Technical specifications:
- compliance with standards: PN EN ISO 11140-1 type 1
- sterilization method: steam
- tape width: 19 mm
- thickness: 0.17 mm
- adhesion to steel: 8 N / 25 mm
- strength: 90 N / 25 mm
- elongation: 7%
- length of tape on one roll: 50 m.
Reviews
0 z 5
This product has no ratings.
Be the first to rate it!