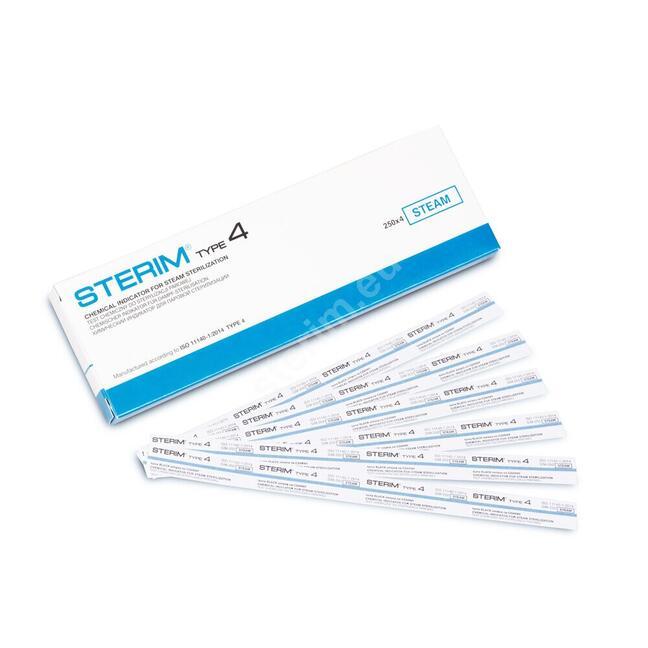 STERIM® chemical tests for checking steam sterilization type 4 - 1000 pcs
Estimated delivery time:
Friday, February 17
Description
Chemical strip tests for steam sterilization type 4 are one of the flagship products of the STERIM® brand. Our specialists oversee the test development process, so we can guarantee the high quality of product production in accordance with the ISO 11140-1 :2014 /type 4 standard with full responsibility.
Thanks to our own production, we ensure continuity of supply and a stabilized and competitive offer in terms of price.
Chemical tests STERIM SIM-250 type 4 can be used in steam sterilizers of all types, regardless of chamber size. However, care must be taken to place the indicator in each sterilized package. The test substance applied to the strip is neutral, it does not affect the course of sterilization or the quality of the sterilized materials.

Advantages of STERIM® SIM-250 type 4 chemical tests:
- ease of use and reading of the test result,
- indicator substance located along the entire length of the test,
- information about the test in Polish,
- possibility to divide the test strip into four independent tests:
* 1.70 cm x 20.50 cm (250 indicators in a box of this size) or
* 1.70 cm x 10.25 cm (500 indicators in a box of this size) or
* 1.70 cm x 5.10 cm (1000 indicators in a box of this size)
THE INDICATORS DO NOT NEED TO BE CUT, you can adjust the size of the indicator to fit the sterilized kit.

Technical specifications:
- sterilization method: steam 121-134 °C,
- compliance with the standard: ISO 11140-1:2014 / type 4,
- verified process parameters: temperature, time,
- size of the test strip: 170 x 51 mm,
- quantity per package: 1000 pieces,
Reviews
0 z 5
This product has no ratings.
Be the first to rate it!