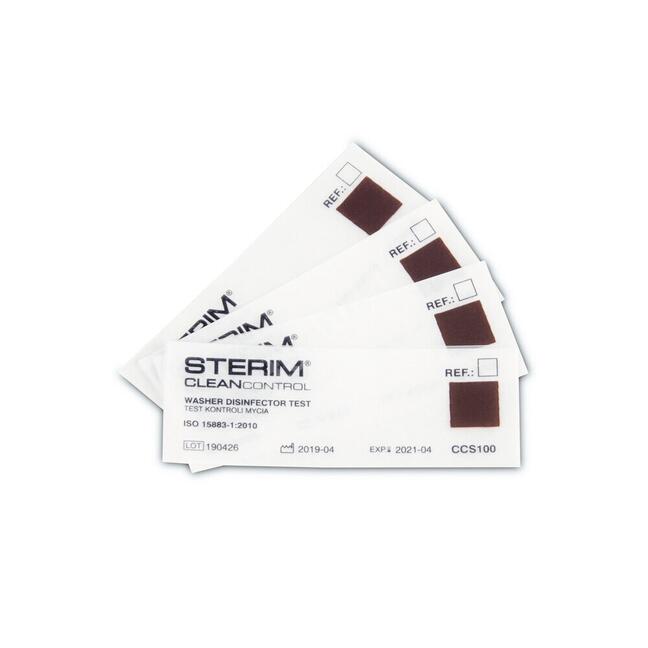 STERIM® CLEAN CONTROL Cleaning control test - 100 pcs
Estimated delivery time:
Friday, February 17
Description
Regular monitoring of cleaning effectiveness is essential in any facility that prepares medical instruments and accessories for reuse. Washing, drying and disinfection of instruments is a step during which the instruments must be thoroughly cleaned of tissue residues, blood, body fluids or other contaminants. Only then can the device be sterilized in the sterilizer.
STERIM® CLEAN CONTROL tests have the form of a plastic strip with a dark red biological indicator substance applied, which simulates the typical contamination of medical instruments. The strip is placed in a special holder at a critical location in the washing and disinfection chamber. At the end of the cleaning process, the status of the indicator is evaluated. Complete removal (washing) of the indicator substance confirms that the process has taken place. Any residue in the test field indicates ineffective cleaning.
Advantages of STERIM® CLEAN CONTROL tests:
- ease of use,
- low testing costs, which enable frequent monitoring of the quality of the cleaning process,
- convenient archiving of test results.
Technical specifications:
- in accordance with the standard: EN ISO 15883-1:2010,
- dimensions of the test strip: 70 x 26 mm,
- shelf life: 2 years,
- quantity per package: 100 pieces.
Reviews
0 z 5
This product has no ratings.
Be the first to rate it!