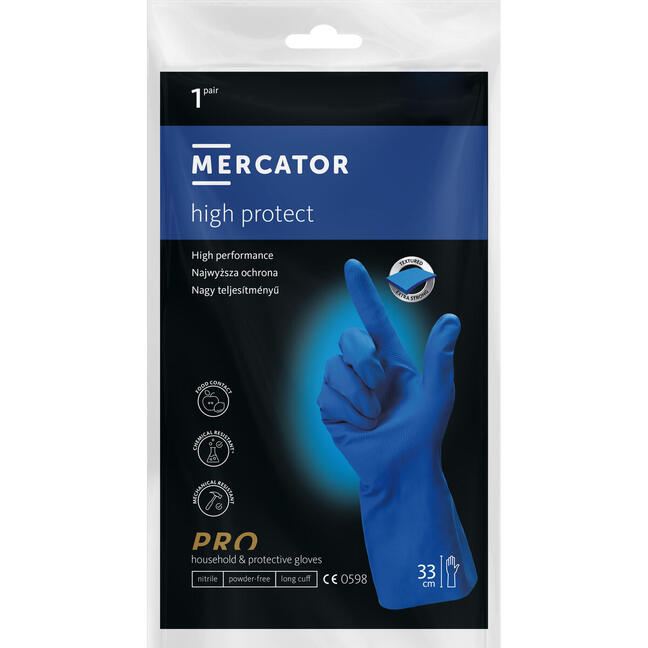 Description
MERCATOR® high protect - The highest protection for the most demanding!
Thick, chemical-resistant nitrile gloves designed for professionals. Thanks to the long cuff and structured surface, they are excellent wherever wrist protection and a stable grip are needed. The soft insole inside guarantees the expected comfort.
High 3rd protection class, type A - guarantee of safe work even in the most demanding environment. In addition, the gloves are characterized by an incomparable thickness, this provides additional protection, in this case against unwanted mechanical damage. The nitrile material is gentle on the skin, does not contain latex proteins, and thanks to the soft insole inside MERCATOR® high protect gloves, they can be used for a very long time. The flocked insole partially absorbs sweat from the hands.
Ideal for the food industry!
Excellent in the food industry for:
processing of animal products (e.g. when processing meat, milk, etc.),
processing of plant products (e.g. during processing of grain, production of pasta, fruit, vegetables),
in the production of food (in the production of bakery products, confectionery, feed, concentrates, non-alcoholic beverages),
in the production of alcoholic beverages.
Gloves are recommended and also suitable for performing various activities in widely understood industry, including heavy. Especially in cases where the employee's hands are exposed to direct contact with chemical substances.
Recommended especially for:
Chemical industry
Heavy industry
Alcohol production
Food processing
Reviews
0 z 5
This product has no ratings.
Be the first to rate it!